Naturform – bed system for side-sleepers and persons of heavy build
The Relax Naturform with a 90 mm sink-in depth and its flexible adjustment options is ideal for people who sleep on their side and persons of heavy build. The double lamella system is supported on elastic latex elements.
Sleep better due to individual settings
Equipped with 42 lamellas at the top and 42 lamellas at the bottom, it ensures relaxation and stability. The variable shoulder lowering device provides even more individual adjustment options. Turning the lamellas is therefore no longer necessary as, thanks to the symmetric design, they can be reversed as a whole.
Shoulder-form-lowering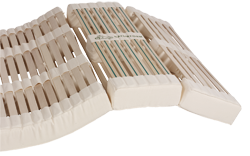 The variable 90 mm shoulder lowering device is the centrepiece of the Naturform from RELAX. It is flexible over its entire width and, as it can be reversed, has double the life span (shoulder zone: green lamellas).
Compact cover – for beds with low sink-in depth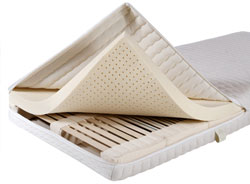 Our bed system Naturform can optionally be delivered with a compact cover. The lamellar system and the mattress can be packed in a cover, which is an advantage for beds with low sink-in depth and for modern beds.
Different versions of the bed system Naturform